Welcome to the AKB0048 Wiki!
Thank you for visiting the AKB0048 wiki, an online wiki that anybody can edit! AKB0048 is an anime based on the popular Japanese idol group, AKB48. It began its run on April 29, 2012 and ended on July 22, 2012. You can start by signing up for a Wikia account. If you already have one, please help us by creating new pages and editing them with new information wherever possible!

In the beginning of the 21st century, a world war breaks out over interplanetary travel tech. The environment is pretty much destroyed so mankind leaves Earth and starts Star Calender 00. Entertainment and songs become heavily regulated and eventually banned due to their power to move people, but a brave idol group puts on guerrilla performances in the name of a famous act from earlier times that sang to Earth's bitter end, AKB48. The illegal revival group's name is... AKB0048.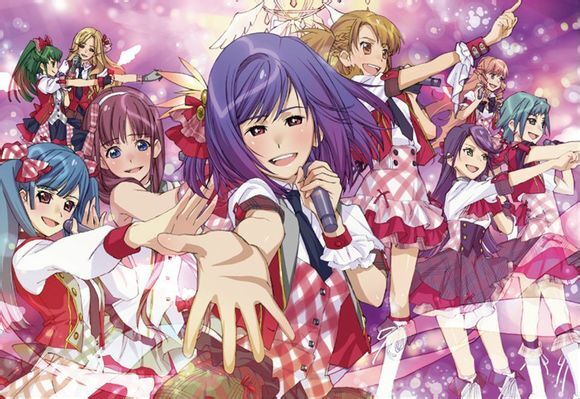 Main Characters
Latest Anime Episode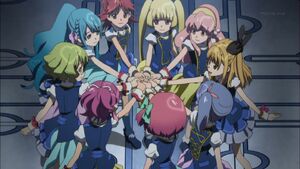 Despite the hazing AKB0048 received during their performance, the understudies decide to have faith in their fans and set out to perform, keeping their heads up no matter what insults are thrown at them. Meanwhile, Acchan appears before Yuuko and tells her that the collective unconscious formed through Dualium resonance transported the Center Novae to that space to keep on providing hope and light to humanity's unconscious with their entertainment. Nagisa persuades people not to hate entertainment when suddenly, she collapses with a high fever, which Tsubasa identifies as the fever of succession...
The final episode, Episode 26 - NO NAME... has now been released!
Weekly Poll
Every week the AKB0048 wiki will update with a brand new poll for you to vote on. Past Results <poll> What did you think of AKB0048: Next Stage? I thought it was even better than First Stage! It was just as amazing as First Stage! It wasn't as good as First Stage but still enjoyable! Both seasons were average. First Stage was awful but I loved Next Stage! Next Stage was awful - First Stage was so much better! They were both awful! I've only seen First Stage so I can't comment. I've not seen either series yet!
AKB0048 News
This section contains all the latest news regarding AKB0048 and AKB48!
10th Novermber 2012 The second season of AKB0048 is confirmed to begin on January 5th, 2013.
27th August 2012 Atsuko Maeda graduates from AKB48 at the Tokyo Dome and the teams are reshuffled. Team 4 is removed.
27th July 2012 The second volume BD/DVD of AKB0048 is released!
25th July 2012 The AKB0048 Roleplaying Wiki is founded!
22nd July 2012 Season Two of the AKB0048 anime is announced!
22nd July 2012 Episode 13 is released!
15th July 2012 Episode 12 is released!
8th July 2012 Episode 11 is released!
3rd July 2012 Episode 10 is released!
27 June 2012 The first volume BD/DVD of AKB0048 is released!
25 June 2012 Episode 9 is released!
External Links