"I see. I guess I view it differently. Maybe you go to see people because they're waiting for you, but not me. I go because I want to see them!"
—Acchan talking to Tsubasa before a concert.
Atsuko Maeda is a member of AKB0048 who has mysteriously disappeared, most likely because of her Center Nova Position. On Akiba star, she is known as "Atsuko Maeda the 13th" (前田敦子), also known as "Acchan" (あっちゃん).
Appearance
Edit
Atsuko has short, purple hair that fades into purple-magenta and reddish brown eyes. She wore a small red-black ribbon in her hair when singing Aitakatta. She has heart-shaped lining in her hair and eyes.
Personality
Edit
Atsuko was shy and reserved, but when she stepped onto the stage, the Kirara all flocked to her in a glowing light, giving her some sort of confidence. It was like if she was wearing a 'Dress of Light'. Acchan was also best friends with Tsubasa. In Tsubasa's flashback in Episode 13, Acchan told Tsubasa that she preformed as a member of AKB0048 because she wanted to see the audience.
Atsuko, along with the rest of AKB0048, hold a secret concert in an abandoned mine on Lancas tar. The DES tried to stop them, but AKB0048 quickly defeated them before leaving Lancas tar. During the time between this concert and before the 77th Generation audition, at a concert on another planet, Tsubasa had witnessed Acchan disappear like the other Center Nova right before her eyes while performing.
It is of note that Acchan was mentioned in the first five episodes of the series and appeared in several flashbacks.
AKB48 member
Edit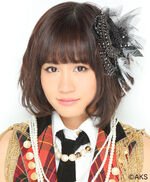 Atsuko Maeda (Acchan) was born on July 10, 1991, in ​​Ichikawa, Chiba, Japan. She was one of the most prominent members of AKB48 and was a member of Team A. She has appeared as one of the front girls in almost every single that AKB48 has released. If any one member could be named the "Face of AKB48", it would be Acchan. She also is an aspiring actress, and has appeared in several movies, dramas and TV shows, including "Densen Uta" alongside fellow AKB48 members Yuko Oshima, Haruna Kojima, Sayaka Akimoto, and "Moshidora" with
Minami Minegishi
. She had her solo singles, "Flower", and the most recent "Kueki Ressha" that earned her a Best New Actress award. Like her AKB0048 counterpart, Atsuko graduated from AKB48 in August 2012. Some interesting facts about Atsuko include that she is left-handed, her oshimen is 
Minami Takahashi
and they are really close friends. She loves pets almost as much as she loves tomatoes, currently having six dogs and three cats. She ranked #1 in the 2009 and 2011 elections.
Screenshots
Edit
Community content is available under
CC-BY-SA
unless otherwise noted.