Jurassic World: Dominion Dominates Fandom Wikis - The Loop
Play Sound
"Nyan-Nyan thinks you gals need more pheromones!"
—Kojiharu talking to Makoto and Kanata.
Chiharu Sakuragi
Japanese Name
桜木千春 (さくらぎ ちはる)
Romanized Name
Sakuragi Chiharu
English Name
Chiharu Sakuragi
Statistics
Age
20
Birthday
February 2nd
Height
163 cm
Homeworld
Uwarastar
First Appearance
Debut
Episode 1 - Uneraseable Dream
Voice Actress/Actor
Japanese Voice
Mamiko Noto
English Voice
Nancy Novotny
Chiharu Sakuragi (桜木 千春 Sakuragi Chiharu), known as Haruna Kojima the 8th (小嶋 陽菜 (こじま はるな)), also known as Kojiharu (こじはる) and Nyan-Nyan (にゃんにゃん) on Akibastar [1], is one of the current members of AKB0048.
Appearance
[
]
Kojiharu has long curly peach-pink hair that has ringlets at the bottom with bangs swept to the right side and light pink-purple eyes.
Like all members of AKB0048, she has a heart-shaped lining on her hair and eyes.
Personality
[
]
Kojiharu has a habit of saying "Nyan-Nyan". Haruna also appears to be very flirty, as she blew kisses to the audience and stunned three men with heart shaped kisses during her first appearance.
Plot
[
]
Past
[
]
Kojiharu, along with the rest of AKB0048, hold a secret concert in an abandoned mine on Lancastar. The DES tried to stop them, but AKB0048 quickly defeated them before leaving Lancastar. During the attack, Kojiharu wielded a heart-shaped magical girl staff that stunned the DES soldiers.
To The Auditions
[
]
4 years later, Kojiharu and the rest of AKB0048 appeared on a hologram card that Yuka had received, telling them how to do the auditions.
Later, Kojiharu and the rest of AKB0048 came to the rescue of the auditioners when the DES took over a ship in order to search and capture the auditioners. They managed to rescue the auditioners, defeat the DES and making an escape on their ship before the DES could catch them. During this battle, she refers to herself as Kojiharu the 8th.
In Episode 3, Kojiharu makes an appearance at the audition of the 77th generation, presenting Nagisa with her micsaber which Nagisa then activates, nearly injuring herself. Kojiharu takes the micsaber back and takes the girls to practice.
Kojiharu appears in Episode 5, and takes Makoto and Kanata to practice using their pheremones and luscious legs to be sexy. At first the girls are not for it, but by the end of the episode they are practicing hard. She also mentions how she and Yuuko are from the same generation, but Yuuko became a successor before she did.
In Episode 6, Kojiharu makes two nonspeaking appearances. Once in the promotional video for the 77th Generation, where she is shown practicing singing with Nagisa, Suzuko, and Yuka, and again in a shot at the handshake event.
During the invasion of Akibastar in Episode 21, Kojiharu and Tomochin are ordered to protect the shrine under the AKB0048 stadium and vanish beneath the stadium during the invasion. It is later revealed in Episode 22 that the two members along with the 76th Generation understudies and Chef Papa, are still under the stadium, protected by a barrier that surrounds the shrine that holds Sensei Sensei and tending to injured citizens of Akibastar who have escaped into the shrine with them. 
AKB48 Member
[
]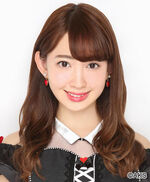 Haruna Kojima was born April 19. 1988 in Saitama prefecture, Japan. Before she joined AKB48, she dropped out of high school at 16 to pursue entertainment full time. She officially joined AKB48 in the initial audition in 2005, at the age of 17. Prior to this, she belonged to a Japanese pop group called "Angel Eyes", which later disbanded in 2001. Its interesting to note that originally, Haruna was not keen on being a member of the group, and skipped the first dance practice to go to her part time job. After some convincing from the then manager, she started attending regularly, and has since stayed a member of Team A, making her one of the group's most prominent members. She is also working at establishing an acting career, having appeared in several films, including "Densen Uta", a horror film alongside several other AKB48 members. Currently she held the record 40 A-Sides in AKB48 (43 A-Sides since their debut). She is known for her good relationship with Yuko Oshima (KojiYuu).
Etymology
[
]
The name Chiharu means "thousand" (千) (chi) and "spring" (春) (haru).

Her alias name Haruna means "light, sun, male" (陽) (haru) and "vegetables, greens" (菜) (na).

Chiharu's surname Sakuragi means "cherry blossom" (桜) (sakura) and "tree, wood" (木) (ki/gi).

Part of the surname Sakura can also mean "blossom" (咲) (saku) and "good, virtuous, respectable" (良) (ra).

Her alias surname Kojima means "small" (小) (ko) and "island" (嶋) (shima/jima).
Trivia
[
]
Kojiharu is the only one of the members of AKB0048 to wield an element similar to a magical girl, that being her heart staff. Comparisons can be drawn between her heart staff and the staff used by Sailor Moon for her Prism Heart Attack.
The current Kojiharu is the 8th person to hold this title.
Kojiharu is skilled at the piano.
In Episode 17, Kojiharu ranked 7th at the General Elections. However, she reveals that at the early results of the General Elections, she ranked 5th and admitted that she was disappointed that her ranking dropped.
Like others, Kojiharu has her own Kirara. We see it for the first time when the members sing Pioneer (Episode 14) as they rescue Yukirin, Chieri Sono and Sonata Shinonome.
Since Kojiharu is from the 72nd Generation, she became an understudy when she was 15 years old.
Oddly enough, Kojiharu's assault micsaber is an obvious nod to Star Wars' lightsaber.
Gallery
[
]
Artwork
[
]
Screenshots
[
]
Fanart
[
]
References
[
]
↑

AKB0048 Volume 3 Blu-Ray Booklet