Jurassic World: Dominion Dominates Fandom Wikis - The Loop
Play Sound
"Because I'm Mariko"
—Mimori to Kanata on the day she inherited
Mimori Kishida (岸田 美森, Kishida Mimori) is one of the main characters of the AKB0048 anime series. She is a former trainee and is currently a full member of AKB0048. Her name before becoming an Idol was Mimori Kishida. She becomes the successor to the 7th Mariko Shinoda, the 8th Mariko Shinoda (篠 田 麻 里 子 (し の だ ま り こ)). She was later known as Mariko (ま り こ) and Maririn (ま り り ん).
Appearance
[
]
Mimori had long, wavy purple hair, which fades into light pink-blonde at the ends of her hair. Upon succession, she cut her long hair, as told to do so by Tsubasa. She also has purple eyes. Like all the AKB0048 members, she has a heart-shaped sparkle in her hair and eyes. Mimori is also known for being extremely well endowed among the trainees as she often occassionally have her breasts bounce when she moves around.
As Mariko, her hair is much shorter and is pinned up.  She wears the traditional red and black checkered outfit of the other members of the group, and also has a tiny top hat in the same pattern, just like all the other members that succeeded the name of Mariko Shinoda.
Personality
[
]
While being very sexy, Mariko also possesses a great and kind heart, and has an upbeat attitude about life. She values her fans greatly, which is shown as she hand writes replies to fan mail. She is hard working and persistant, never giving up and always trying her absolute 100% best. As Mariko, she possesses some masochism.
Plot
[
]
Season 1
[
]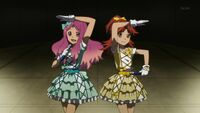 Mimori along with Kanata is a member of the 75th generation, the "Cursed Generation", and the oldest member of the trainees at 17 years old. While all the other 75th Generation girls quit, Mimori and Kanata stuck with it, Mimori for her love of singing and performing. When Kanata reveals she only joined AKB0048 to fight the DES, Mimori responds by singing to her, and eventually breaking through to her friend.
In Episode 5, Sayaka and Sae attempt to teach Mimori to be more of a tomboy and to use her less of her pheromones, much to Mimori's dismay and protests.
Mimori makes an appearance at the end of Episode 6, showing up beside Kanata holding micsabers for the 77th generation trainees. She is then shown helping Orine and Suzuko escort the fans out of the stadium. She later saves Kanata from a sneak attack by a DES robot.
In Episode 7, Mimori was chosen as the stand-in for Kojiharu.
Season 2 - Next Stage
[
]
She is very optimistic. Her optimisticism increased her chances of election, in which she ranked 10th. Because she is an elected member, her popularity increases just like Chieri.
In Episode 19, she comes down with a fever called the 'Succession Fever' before the day of the concert. She is shown in the Kirara of Succession, and because she has the 'Succession Fever', according to Tsubasa and Mikako, means that she will succeed someone. Despite her fever, she forces herself to perform at the concert, but managed to last until the end of the first performance. Nagisa then becomes her stand-in and she goes to rest. In her sleep, she sees the member who she will succeed. At the end of the episode, Tsubasa is surprised when she sees who Mimori will succeed. 
In Episode 20, Mimori succeeds Tsubasa as Mariko Shinoda the 8th. 
Etymology
[
]
The name Mimori means "beautiful" (美) (mi) and "forest" (森) (mori).
Mimori's surname Kishida means "shore, bank, coast" (岸) (kishi) and "field, rice paddy" (田) (ta/da).
Trivia
[
]
Sonata Shinonome calls Mimori Mimomari (ミ モ マ リ).
Mimori was the tallest and the oldest of the trainees in AKB0048.
In Episode 9, Mimori admits that she is a masochist.
In Episode 16 and Episode 17, Mimori ranked 10th at the General Elections.
In Episode 17, after Mimori gives her speech and declaring that her promise still stands to Kanata, Kanata says "Mimori from above," which possibly hints that Mimori would become the successor of Shinoda Mariko. This is because of the song Ue Kara Mariko, which means Mariko from Above. Kanata says, "Ue kara Mimori," which means Mimori from above.
In Episode 20, Mimori becomes Shinoda Mariko the 8th.
Mimori is the first and only member of the 75th Generation to become a successor.
Mimori really likes to express her pheromones, as shown in Episode 5.
Gallery
[
]
Category Page: Images of Mimori Kishida.
Artwork
[
]
Screenshots
[
]
Fanart
[
]