Jurassic World: Dominion Dominates Fandom Wikis - The Loop
Play Sound
"Next time, I hope they are tears of joy and not sorrow."
—Tomochin at the General Elections.
Tomoyo Itano[1] is one of the current members of AKB0048. On Akibastar, she is known as Tomomi Itano the 11th (板野 友美 (いたの ともみ)), also known as Tomochin (ともちん).
Appearance
[
]
Tomochin has long, curly, blonde hair and golden eyes. Like all members of AKB0048, she has a heart-shaped lining on her hair and eyes.
Personality
[
]
Tomochin is the most reserved of the current members of AKB0048. She has a quiet spirit, but a happy personality. She loves being the successor to the Tomomi name. Tomochin also seems to have a passion for spicy things and also a lack of taste.
Relationships
[
]
Plot
[
]
Season 1
[
]
Tomochin, along with the rest of AKB0048, hold a secret concert in an abandoned mine on Lancastar. The DES tried to stop them, but AKB0048 quickly defeated them before leaving Lancastar.
4 years later, Tomochin and the rest of AKB0048 appeared on a hologram card that Yuka had received, telling them how to do the auditions.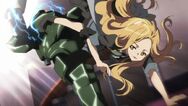 Later, Tomochini and the rest of AKB0048 came to the rescue of the auditioners when the DES took over a ship in order to search and capture the auditioners. They managed to rescue the girls, defeating the DES and making an escape on their ship before the DES could catch them.
During Episode 3, Tomochin makes a brief non-speaking appearance during the scene in the training room.
Tomochin first speaks in Episode 5, coming into the cafeteria and asking Yuka and Orine for food. She appears to have a lack of taste as she then proceeds to load up her food with hot tobasco sauce and various other hot spices. She later introduces the girls to her mother, grandmother, and older sister, Tomoka who also happens to live on Akibastar, and Yuka and Orine are stunned to find out that Tomomi's female ancestors have all been members of AKB0048, in addition to looking almost exactly alike. Tomomi's mother, her grandmother and sister all have the diamond mark in their eyes and hair, indicating that like Tsubasa, they have graduated from past generations of AKB0048.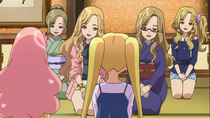 It is also revealed that each female member of the Tomochin line carries the name of Itano Tomomi, the original member of AKB48. The girls are trained to be just like Itano, and carry scrolls with them that instruct the girls in how to be just like her. The family even goes so far as to marry men who look like Itano's father so that their daughters will look just like Itano. Outside with Yuka and Orine, Tomomi wonders what it would be like to be a girl like Kojiharu, but then states she is happy with being Itano Tomomi. She later tries to teach the girls her signature cute look.
Season 2 - Next Stage
[
]
At the General Elections, when Tomochin ranks at 8th, she tells her fans that it is an honour to have ranked the same  as her sister, Tomomi Itano the 10th, and that she will try her hardest to do better next time around.
During the invasion of Akibastar in Episode 21, Tomochin and Kojiharu are ordered to protect the shrine under the AKB0048 stadium and vanish beneath the stadium during the invasion. It is later revealed in Episode 22 that the two members along with the 76th Generation understudies and Chef Papa, are still under the stadium, protected by a barrier that surrounds the shrine that holds Sensei Sensei and tending to injured citizens of Akibastar who have escaped into the shrine with them.
AKB48 Member
[
]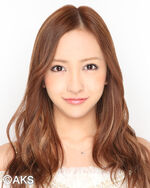 Tomomi Itano was born in Kanagawa Prefecture in Japan on July 3, 1991. She officially joined AKB48 in 2005 at the age of fourteen. In addition to being one of the group's Senbatsu members, she is also a part time model and actress. She has featured in the popular Japanese fashion magazine Cawaii, and released her own photobook in 2009. She has also had a few starring roles on TV as well, playing Shibuya in the television show "Majisuka Gakuen 2". She also was part of the subunit "Queen & Elizabeth", and appeared on Kamen Rider W during the series run. Some interesting facts about Itano include that she wishes she was older, and she is known for the idol that has no taste, she also considers her petite mouth her cute point. She graduated from AKB48 on August 25th 2013. She is now on a solo career.
Gallery
[
]
Artwork
[
]
Screenshots
[
]
Fanart
[
]
Trivia
[
]
As of Episode 5, Tomoyo's grandmother is the oldest former member of AKB0048 that the members of the 77th generation have met.
This is so far the only time that a family has been seen carrying on the name of an original member of AKB0048.
At the end of Episode 5, Tomoyo and her family try to teach Yuka and Orine their petite mouth look, which the original Tomomi considered her favorite feature of herself.
Tomoyo is the 11th person to hold the name of her original predesscor.
Her sister, Tomoka Itano, was the 10th Tomomi Itano for at least 3 years before Tomoyo took over the name.[2]
In Episode 17, she ranked 8th at the General Elections, however, she ranked 3rd in the early rankings. She reveals that at the previous General Election, her sister Tomoka Itano, Tomomi Itano the 10th, ranked 8th as well, and is honored to be of the same rank.
In Episode 25, it is revealed that she has developed the ability to sense Sensei Sensei.
References
[
]