"Acchan, you're always there to light our way."
—Tsubasa in Episode 13
Tsubasa Katagiri
Japanese Name
片桐 ツバサ (かたがり つばさ)
Romanized Name
Katagiri Tsubasa
English Name
Tsubasa Katagiri
Statistics
Age
Unknown
Birthday
Unknown
Height
Unknown
Homeworld
Akibastar
First Appearance
Debut
Episode 1 - Uneraseable Dream
Voice Actress/Actor
Japanese Voice
Yumi Kakazu
English Voice
Shelley Calene-Black

Meaghan Avocado (Younger)
Tsubasa Katagiri is the producer and manager of AKB0048. She sometimes plays the role of a priestess doing prayers for a mysterious entity. When she was an AKB0048 member, she was known as Mariko Shinoda the 7th (篠田 麻里子 (しのだ まりこ)), also known as Mariko (まりこ) and Maririn (まりりん) and Marikosama (真理子サマ).
Appearance
[
]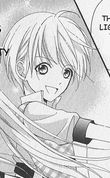 She is often seen wearing white shoes, a blue outfit, and holding an iPad like device. Her hair is short and blond and has blue eyes. She has a diamond-shaped lining on her hair and eyes just like other graduates of AKB0048. When she was an AKB0048 member, she used to have the heart-shaped lining in her hair and eyes like all the others members and trainees. Orine's first impression of her is that she is a beautiful person.
Personality
[
]
Tsubasa is an assertive but kind woman, doing her best to comfort the understudies and help them settle into the difficult schedule that all AKB0048 idols must undertake. She is friends with Ushiyama. She is usually a calm, reserved character, and there is also an air of mystery to her due to the fact she never discusses her past.
Plot
[
]
Past
[
]
Before the start of the series, Tsubasa was Mariko Shinoda the 7th. She and Atsuko Maeda the 13th were very good friends.
Tsubasa is seen briefly at the beginning of Episode 1 during the concert on Lancastar organizing against the DES forces.
After the concert on Lancastar and during a concert on another planet, while performing, Tsubasa witnessed Atsuko disappearing right before her eyes. She asked an administrator why Atsuko disappeared, but didn't get any answer. She then vowed to join the administration in order to solve the mystery of Atsuko's disapearance.
To the Auditions
[
]
Four years later, Tsubasa has risen through the ranks, graduated and become the producer and manager of AKB0048. She first appears in Episode 1, displaying a group of photos from all the girls across the galaxy who responded to the calls of the audition, dressed in the outfit of a miko. Presumably, it is an empy space, but two yellow eyes appear out of the dark, and a rumble is heard.
Tsubasa next appears in Episode 2, stating to the same darkness that there are a group of auditioners coming to the auditions on a ship. The yellow eyes appear again and start to sing song lyrics, which Tsubasa takes as an indication that these six girls will be a part of the 77th Generation. She then orders a rescue to take place to save the six girls on the ship and bring them to the auditions, unbeknownst to her at the time that there were seven girls.
AKB48 Member
[
]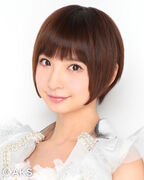 Mariko Shinoda was born on March 11, 1986 in Maebaru, Fukuoka, Japan. She is a singer, actress, fashion model, and one of members of the Japanese idol group AKB48 , in which she is the captain of Team A . In October 2005 she failed an audition to be one of founding members of AKB48. She started working at a café in then-Akihabara 48 Theater (renamed and currently known as the "AKB48 Theater") as a staff member. Although she was not a member of AKB48, she won a popularity contest voted on by fans visiting the theater. Hearing that, Yasushi Akimoto, General Producer of AKB48, came to her and gave her conditional permission to join AKB48 if she could remember and perform all 12 songs and choreographies performed at the theater in 4 days. She did nothing but practice for next 4 days and made her debut on January 22, 2006. She has been part of the "Senbatsu" group in most of the singles released as AKB48 since the group's first single on a major label, "Aitakatta ". She announced her Graduation last 5th Senbatsu Election. She is the first member to announce her graduation in a Senbatsu event. She graduated last July 23, 2013 in Fukuoka Yahoo Dome in her hometown. She ranked #5 in 2013 election.
Gallery
[
]
Artwork
[
]
Screenshots
[
]
Fanart
[
]
Trivia
[
]
Before her graduation, Tsubasa was Mariko Shinoda the 7th for at least 3 years.[1]
Tsubasa might have been related to the last Acchan, since both of their last names are Katagiri.
Tsubasa's successor ends up being Mimori Kishida, who becomes Mariko Shinoda the 8th.
She won the general election once and became the Center, but she didn't manage to become the Center Nova.
References
[
]
↑

AKB0048 Episode 0 manga.