Jurassic World: Dominion Dominates Fandom Wikis - The Loop
Play Sound
"Megu... I'm sorry."
—Sae apologizing to Megumi.
Youko Asamiya[1] is one of the current members of AKB0048. On Akibastar, she is known as Sae Miyazawa the 10th 宮澤 佐江 (みやざわ さえ)), also known as Sae (さえ).
Appearance
[
]
Sae has short pale slate grey hair and cyan eyes. Like all members of AKB0048, she has a heart-shaped lining on her hair and eyes.
Personality
[
]
Sae appears to be a bit of a tomboy and rough around the edges, as the first few times she is seen in the series she is shown piloting a mecha. She seems to be more comfortable in combat situations than she is on stage.
Plot
[
]
Past
[
]
Sae, who was known as Youko at the time, was part of the 76th Generation along with Megumi Wanibuchi, Hazuki Yanagikawa, Mizuho Shirai,Himeko Ichioka, Umi Dozima, Rie Hasumi, and Akira Shirado. Until one day, she becames the successor of Sae Miyazawa, making her the only member of the 76th Generation to join the rank of successors of AKB0048.
To The Auditions
[
]
One year later, Sae and the rest of AKB0048 appeared on a hologram card that Yuka had received, telling them how to do the auditions.
Later, Sae and the rest of AKB0048 came to the rescue of the auditionners when the DES took over a ship in order to search and capture the auditionners. They managed to rescue the auditionners, defeat the DES and making an escape on their ship before the DES could catch them.
During Episode 5 alongside Sayaka, she takes Mimori to train her in the ways of purity.
In Episode 6, she is nearly dragged off by a crazed fan at the Handshake Event. She later greets the WOTA when they appear to help the girls fight off the DES.
In Episode 8, Mimori explains that Sae was from the 76th generation and that she was promoted before they got to be onstage.
AKB48 Member
[
]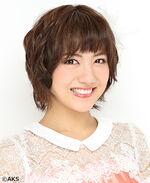 Sae Miyazawa was born on August 13, 1990 in Tokyo, Japan. She is a member of SKE48's Team S and SNH48's Team SII. She part of AKB48's 2nd Generation with Yuko Oshima and Sayaka Akimoto. Until her transfer in 2012 she was a regulary Senbatsu member since their first single Aitakatta. From 2011 to 2014 she was a member of AKB48's Sub-Unit DIVA. She ranked in this year election #8.
Gallery
[
]
Artwork
[
]
Screenshots
[
]
Fanart
[
]
Trivia
[
]
Apparently, Chieri was originally planned to resemble Sae, but then Chieri's design changed.
The current Sae is the 10th person to hold this title.
In Episode 8, it is revealed that she is actually from the 76th Generation, making her the only member of the 76th Generation to succeed.
In Episode 15, Megumi reveals that she voted for Sae, however, Sae replies by saying that members are not supposed to vote for each other.
In Episode 17, she ranked 9th at the General Elections, but in the early rankings, she placed 8th.
In Episode 20, Takamina reveals that before Mimori, she was the last understudy to succeed the name of an AKB48 member.
In the anime, she's often seen with Sayaka as well as in real life.
References
[
]
↑

AKB0048 Volume 4 Blu-Ray Booklet